We need a Muse, you like free stuff… sounds like a win-win!
We have A LOT of awesome ideas.  And with every awesome idea comes a flurry of activity.  From planning, designing, tweaking, re-designing, testing, re-testing (you get the idea) we may end up with an amazing high quality personalized gift worthy of a spot on our retail line.
Now, since all of our best products are personalized, you can imagine how many "test products" we have in our house with our name, our kids names, and our pets names engraved on them. It's time to share the wealth.
By becoming an RTS design insider, we will give you the opportunity to have access to our products that are still in our testing phase – free.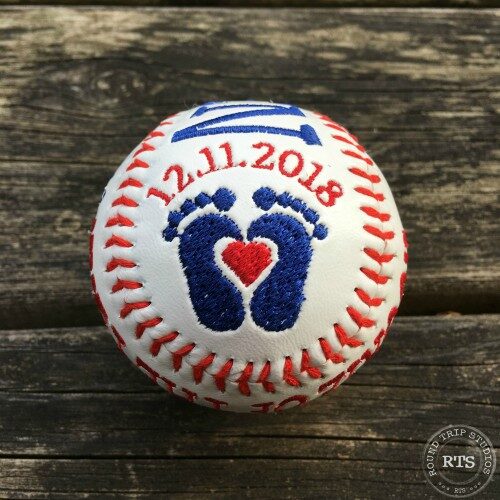 Here's what a design insider got (for free!)
Our design insider, Julie, provided us with the name and birth statistics for an idea we had, a New Baby Embroidered Baseball!  In return she will got to keep this awesome personalized gift when it finished its promotional tour.
Here's how it works:
We have a great idea that we want to test – this could be a new product, or a new design for an already established product, or (knowing me) some crazy new idea that I just want to try out.
We send an email to those that have signed up to our RTS Design Insiders list.
We ask for specific information that has to do with our idea.  For example, the baseball was great for someone that knows a baseball loving family, with a new baby boy, and could give us all the important birth stats.
You respond to the email with all the requested information.  If the request isn't a great fit for you, tell your friends so they have a chance to get free stuff!
We choose randomly from the list of all the responses that contain exactly what we asked for.
Then we will design the product with the information we got from you.  If it passes our rigorous standards then we will make it available to others via our retail line.  We will use it for pictures and promotional material and when we are done with it, you will get to keep it!
Here's what you have to be cool with…
The information you give us will be photographed and these pictures will be shared to help promote the product and the business. Typically this means they will be used on our social media platforms, website, and e-mails, but we can use them however we see fit. Cool?
The testing process has no timeline. Sometimes we finish testing quickly, other times it takes a while. Do not expect to get the product by a certain date. You will get it as soon as it is ready to be given away. Cool?
We may not tell you what the idea is until the testing phase is finished. Like all great ideas, they are best kept under wraps until they are perfect and ready to be unleashed into the world. So, you may be in the dark longer than you'd like. Cool?
When it's ready, you must be able to pick it up from our GTA (Milton or Oakville Ontario) location. We can ship it to you if needed, but you will have to pay for shipping. Cool?
Our testing might not work the way we expect it to. Wait, what? Our awesome idea turns out to be not so awesome? It happens. Even if our testing does not end in an RTS worthy product it still may be cool to you; but if testing doesn't work at all, we won't have anything to give you. Bummer yes, but we will try to make it up to you somehow. Cool?
No refunds. It's a free gift people. If you're not happy with it, please tell us so we can improve it, but please don't expect to get compensation for any of our test products if you don't like them. Cool?