We offer wholesale packages of client gifts to suit any budget. Realtor bundles are designed to keep minimum order quantities low and still create personalized gifts for each client. We can also create a custom quote for other projects, with better pricing for larger order volumes.
---
I'm not a Realtor. Can I still get wholesale pricing?
Yes. Please tell us about your project. Do you know what product you are interested in, how many you'll need, and when you'll need the project completed by? The more information you can give us, the faster we can create a custom quote with options to keep you on budget. 
---
What does each closing gift include?
We have a few wholesale bundles available, but our bestselling option is the premium package. It includes:
Made in Canada. Choose a small, medium, or large charcuterie board, with or without bark
Conversation starter. Custom engraved designs personalized for every client.
Personal touches. Your logo or personal message is engraved on the back (optional).
Professional packaging. Your logo is engraved on the high-quality gift box (optional).
You can also add a container of wood conditioner to complete your gift.
---
How do I get the wholesale price?
Simple. You just need to decide if you want a 5-board bundle, or a 10-board bundle, then pay for those boards. You do NOT have to engrave them all now – only when you are ready. And there is no expiration date for when to use your boards. We'll keep your order history in your client file and let you know when your stock is running low.
---
I've paid for a bundle (5 or 10 boards). How do I order my individual designs?
Welcome! If you've paid for a Realtor Bundle, you are now part of the RTS wholesale family. Ordering your designs online is easy, just:
Follow this link, and find a design you like.
Answer "yes," to the question "are you a current wholesale client?" (This will erase the price.)
Add your engraving details and design requests in the "engraving details" box.
Add to cart.
Continue steps 1-3 until you have all the boards you need, then check out to submit your order.
We will email you a design file to approve before we start engraving.
---
I don't see a design I want, can I create a new design? Can you give me ideas?
Absolutely! We love creating custom designs. You can even upload inspiration pictures! We will email you a design file to approve before we engrave, so you'll have a chance to make any changes you'd like. We cannot alter or add to designs after they have been engraved.
---
Do you engrave photographs of houses?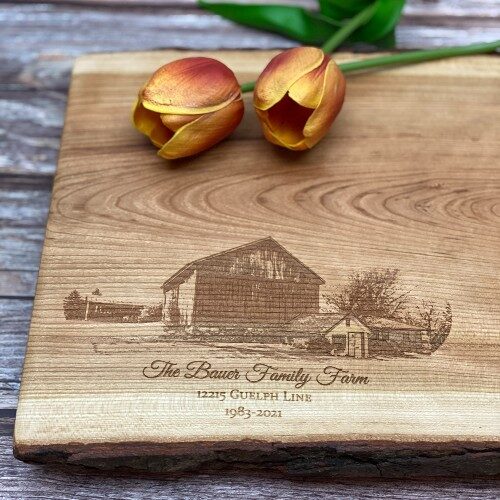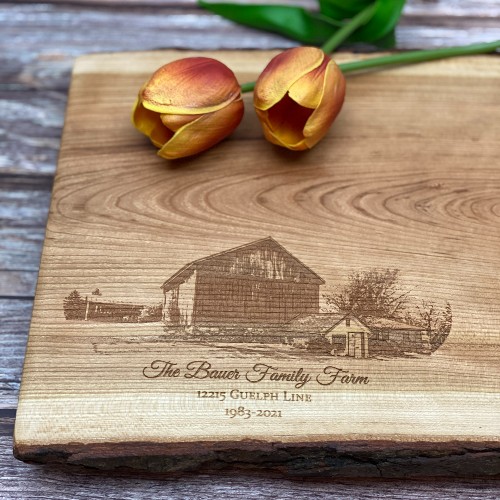 Yes… but…
Most photographs engrave well. There is a lot more work involved in converting a photograph into a format that we can use, and there is a cost associated with this. Please email us the photo you are inquiring about and we can give you a quote for the project. Please make sure the photo you submit is the highest resolution and largest size possible.
---
What is your turnaround time?
Our typical turnaround time is 10 business days (Monday – Friday), but we can rush orders for a fee in needed. Wholesale clients get priority service at no extra cost, and can request a completion date when you order online. If we cannot accommodate the time requested, we will contact you immediately.
Turnaround times can increase depending on the volume of orders. Typically this occurs close to Christmas and Father's Day, as well as July and August. For the most up-to-date information and advanced warnings when this may occur, please sign up for our email list.
Please remember our turnaround times do not include shipping times and we only engrave orders that are approved by you, so the faster you can get back to us, the sooner your order will be ready.
---
What happens when I place my order?
Our designers get to work to design your board for you. Once the design is ready, we email you a PDF called a "design file" to approve. You look it over for style and spelling and tell us if any changes are required. Once the file is approved, we can start the engraving process. We do not engrave files until they are approved as we cannot make any changes to the boards after they are engraved.
---
Did we miss something? Please submit your questions here and help us keep our FAQs as up to date as possible. Thanks for you your help!