The Best Gifts Tell A Story.
Gifts with handwriting are conversation starters and are a great way to win Christmas, impress the in-laws, and generally show you genuinely care.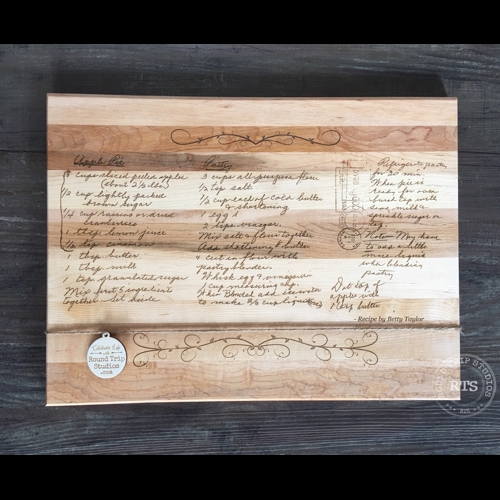 This recipe was originally written on an envelope and our client was hoping we could salvage it. She initially wanted us to engrave only the recipe, but while working on this project, it seemed just as important to engrave the postmark as well.
So, we showed her a design file with both options and she agreed to keep the postmark. The engraved recipe is already a stunning conversation starter, but now there is added depth to the story.
So… How Did We Do It?
We've made it easy for our clients to submit handwriting, handprints or footprints for engraving. You just need to take a picture with your smart phone and upload the file where instructed on the product page before you add to cart (highlighted in yellow). You can also email us the photos if you prefer. Of course, we have some tips for taking the best picture that will lead to the best engraving, and how to get great prints so read on!
Tips for taking a great picture of handwritting, handprints or footprints
The most important thing is to make sure there are no shadows. If shadows are present in your photograph, the detail will be lost and words my be impossible to recover. If needed, take multiple pictures of different areas of the recipe and we can piece it together. If in doubt – send it. If we need you to take a different picture we will contact you.
Some other considerations:
No shadows – see above, if you need to take multiple pictures to ensure no shadows fall across the picture then do so.
Take a photo from above – this ensures the words are straight. We can correct this slightly so it doesn't have to be perfect.
One photo is usually fine – if you have multiple signatures, often one picture will do. We can zoom in and enlarge things if needed.
Upload the largest file size possible. Alternatively you can email us.
Tips for Handwriting
There are some easy things you can do to ensure a quality engraving. For gifts with handwriting, like our personalized hammers, have the kids write on plain white paper with a black sharpie marker. Then follow the step above for a perfect photograph.
Don't worry about errors!
We can erase small blemishes, straighten text, scale text to fit the space, and move words around if necessary. If they make a big mistake, just cross it out and try again. Then it will be clear to us what to include and what to leave out.
Create Great Handprints and Footprints
When working with kids (and animals) patience is key! While all prints are easy, it will take a few tries to get ones you actually like. Psst… footprints are easier for babies and look amazing engraved!
Use black ink on plain white paper. Don't use paint! Although we can engrave prints with paint there is no detail and we do not recommend it. You can find water soluble ink from most craft stores. It will take a few tries to get off so be patient and test on yourself if you are unsure.
If you have very young children, have them sit or lay down and distract them if necessary. TV is your friend here!
Bring the ink pad to the foot and press it multiple times so the foot is well covered. Work quickly.
Press the foot against the paper, hold for a second (don't move!), then repeat in a different area until no more ink comes off. Pro Tip: I use a hard book or clipboard behind the paper so I can press the foot gently but firmly to create the print.
Label the print so you remember who it is and I can refer to it specifically if necessary.
Do both a left and right print. Depending on what you are purchasing, one will fit better with the design. Our cufflinks, for example look best when one is the left print, and the other is the right print.
Follow the step above to get a great picture, then find what product you love and lets create something amazing!
---
Now Let's See Some Gifts With Handwriting, Handprints or Footprints!
This is my favourite part! The photos below just show a small sampling of what we can do. Click description under the picture to take you to the product page.