Here's a secret… Mom doesn't realize how important she is. Even with all the well-intentioned flowers and brunches, she still doesn't GET it. So, in 2022, let's show her what she means to us, and the impact she has on our lives. These 10 meaningful Mother's Day gift ideas will do just that. Get ready to make Mom cry this Mother's Day.
The Best Sentimental Mother's Day Gift For 2022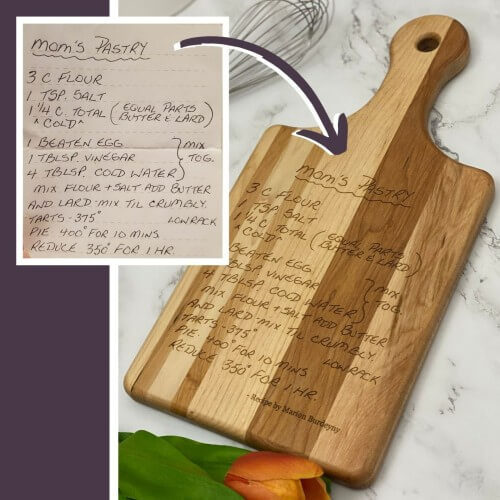 Idea #1: Engraved Recipes
This is a powerful gift. When she sees a cutting board engraved with her mother's recipe, a swell of emotions and happy memories will come flooding to the surface.
If you engrave one of her recipes, then all of a sudden she'll realize that what she considered a task, is really a cherished memory.
These happy memories and feelings of being appreciated will happen every time she enters her kitchen and sees this beautiful gift.
More about this meaningful gift
We engrave the handwriting you give us. It's not ours, it's your loved ones words in their script. You take a photo of a handwritten recipe with your smart phone and we'll do the rest. After you order, we'll send you a design file to approve before we engrave, so you have a good idea what it will look like. Get tips for taking a great picture here.
Recipes can be engraved on either cutting boards, or live edge charcuterie boards.
---
Idea #2: A Memory Board
Most Mom's don't realize the impact they have on your life. So SHOW THEM! Show Nana all the fun memories she is responsible for.
This design is available on a cutting board or a live edge charcuterie board.
---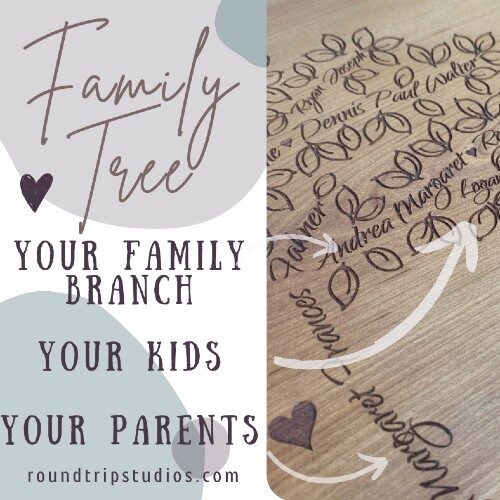 Idea #3: A Family Tree
Look what they started! Show them their legacy with an engraved family tree. The names are used as the branches, with families grouped together. Couples are connected with hearts, and their children come off the parents branch in a slightly smaller font.
This design is available on a cutting board, a live edge wall sign, or a live edge charcuterie board.
---
Easy Meaningful Mother's Day Gifts for 2022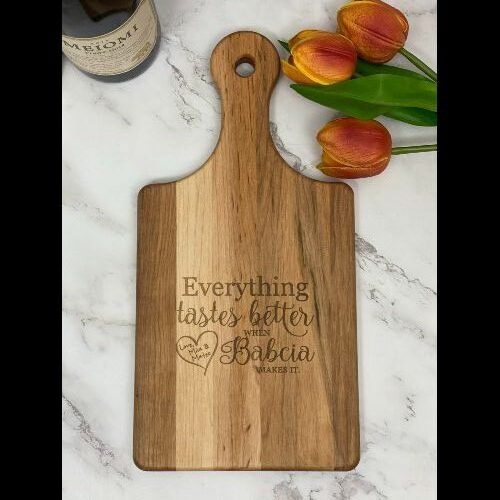 Idea #4: Personalized Cutting Boards
Adding the grandchildren's names to this sweet sentiment instantly makes this gift "bragable." She'll want to show it off to everyone!
We have lots of design options that will make a meaningful Mother's Day gift. To really make her heart melt, try engraving the saying in her native language. If you can type it, we can engrave it!
Personalized designs can be engraved on either cutting boards, or live edge charcuterie boards.
---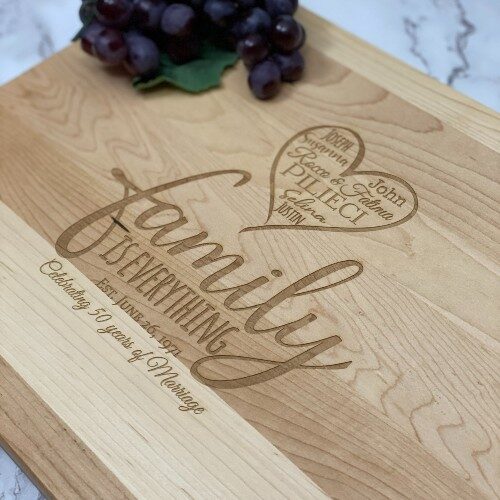 Idea # 5: Include the whole family
There's nothing Mom's love more than family. This design makes it easy to include everyone.
This design is available on a cutting board or a live edge charcuterie board.
---
Functional & Fun Gifts For Mom
Meaningful gifts don't have to be expensive. Here are a few bestsellers that are so easy to do, yet, when personalized for your mom, will have a big impact.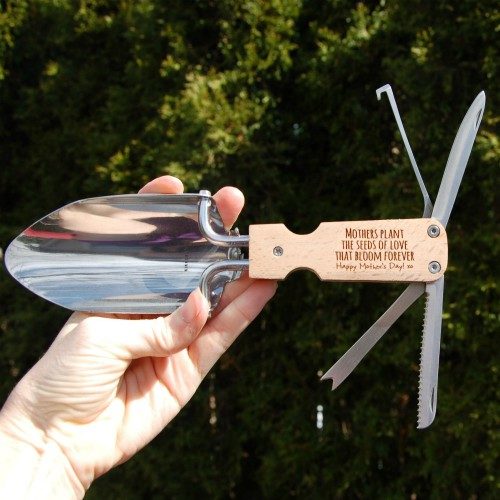 Idea #6: Personalized Garden Multitool
If Mom loves her garden, then this garden multitool with a folding trowel will make her smile. Engrave a sweet saying and your children's names to make this extra special. Need inspiration? We're happy to help. Click below for our most popular sayings.
---
Idea #7: Embossed Leaf Print Necklaces
Another great idea for garden lovers! These beautiful sterling silver necklaces are handcrafted with the nature lover in mind! Each necklace features embossed prints made using real plants collected in British Columbia. Created by the talented artisans at Umlaut based in Vancouver, BC. Make sure you check out this unique Canadian small business.
---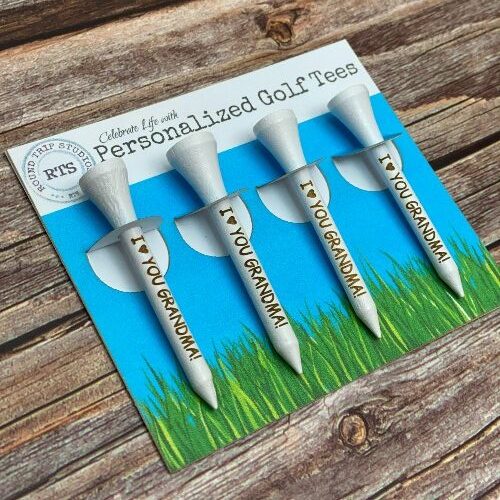 Idea #8: Personalized Golf Tees
Not just for Dad! Our engraved golf tees can be personalized for anyone. You tell us what you'd like to say.
These come as a set of 4, packaged and ready to give. Each tee can have a different saying!
---
Best Group Gifts for Mom in 2022
Idea #9: A Custom Game Board
These are one of my favourite gifts to design! Bring all your siblings together and brainstorm all the characteristics, memories, or moments that make Mom so amazing.
This gift is sure to show Mom how much of an impact she has had on your life.
---
Idea #10: The Family Tree
Yup. It's THAT good that we are mentioning it again. This is a great group gift, that isn't hard to do, and will be one of the most talked about gifts she will EVER receive.
We know it looks daunting, but you just have to make sure you spell everyone's name correctly. We'll do the rest. Easy right? And don't worry – as with all of our gifts, you'll approve the design file before we engrave.
---
Meaningful Mother's Day Gifts Made Easy
We've made it easy to make Mother's Days gifts meaningful. Order any of our gifts online, then sit back and relax while the magic happens. We'll email you a design file to approve before we engraved, so you'll know what to expect. If you need any changes – no problem! We'll adjust the design file until you are happy with it. Once your gift is engraved, we cannot alter or add to the design.
Looking for more local gift ideas? Check out this blog.