This page allows you to chose your live edge boards for personalization. Enter your order information, choose which live edge board you'd like us to use, and press submit. We'll match your choice with your order and contact you with a design file to approve before we engrave. 
Important
These boards are reserved on a first come, first served basis. We will update the website as often as possible. If your choice is not available, or is unsuitable for your design, we will contact you via email with some options. 
Consider where you want your design engraved
If you'd like engraving in the center of the board, make sure the center is clear of knots that may distract from the engraving. We'll let you know if we have a concern, and will give you some options as needed. The best advice is to go with your gut. If you love it, choose it. The rest will fall in place. 
Engraving looks different depending on the wood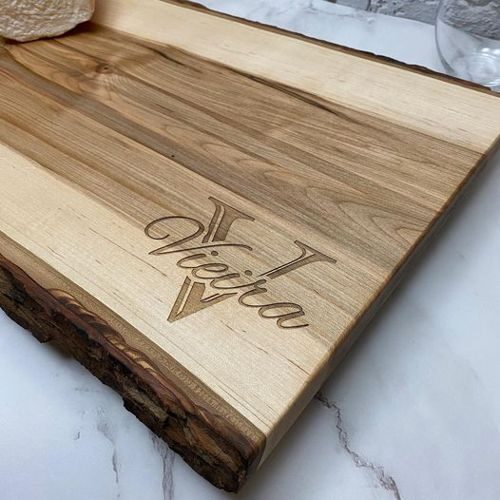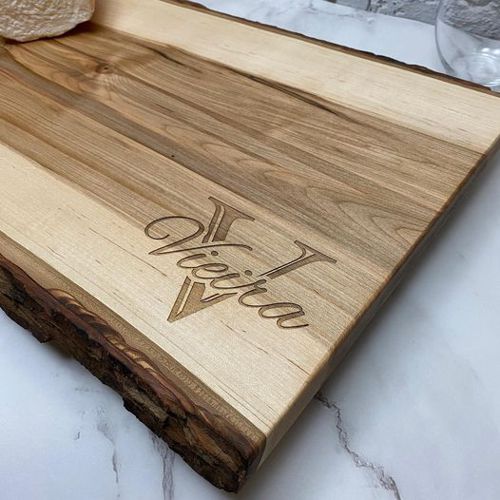 While all are beautiful (the the pictures don't do them justice), not all species of wood engraves the same. The darker the wood, the more subtle the engraving. You'll notice on the heartwood (the dark section) of the walnut board, the engraving is quite subtle. Again, this looks different in person, but it's a good example to show you the difference between the species. Butternut (not pictured) engraves much like maple.
---
---
My preferred style of live edge board is not available, what are my options?
Boards with bark attached sell out quickly. If we are currently out of stock, rest assured that we are always expecting more stock to arrive. Here are some options:
Choose and submit the "expecting more soon" option. This will add you to the waitlist, and we will email you when more stock arrives so you'll have first choice before we make it available to the public.
Upgrade to a different sized board. If you see a board you love, but it's not the size you ordered, choose it. We can upgrade your order and will contact you to pay or refund the difference between the boards.
Have questions? You can contact us anytime and we'd be happy to answer them. We're here to help.
I've changed my mind. I don't want to choose my live edge boards for personalization.
No problem. Just send us a note in the "notes about your order" box above, and we'll choose the best live edge board for your design from the stock that we have.