We get it. Sometimes it's easier to see all of our cutting board designs in one place. If you see something you like, follow the link in the heading to go directly to that page. If you don't, order something completely custom by choosing "new design." As always, if you need help, just email us. We are here for you.
---
Arguably our most stunning design. If you want to impress the in-laws, this is the gift you want. Each tree is as unique as the family we are designing it for. Although we offer family trees on our rectangular cutting boards, most people prefer to do them on a live edge piece instead. You can order either by following the link. Here are some of the trees we have made so far:
---
Warning! This gift will make them cry. You send us a photograph (from your phone!) of a meaningful recipe and we will engrave it into a beautiful gift.
---
---
---
---
---
Our most popular collection! When you order, you decide what to engrave in the middle circle and around it. Here are some of our past Tuscan designs to give you some inspiration.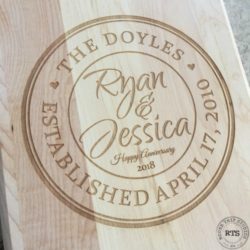 ---
---
Don't see a design you like? No problem! We love making something new! We work with you to design something completely unique. Need inspiration? Here are some designs we have done in the past.
RTS Insiders Get Free Stuff
Did you know that when we come up with new design ideas we often give the first one away for free? If you want to be included, sign up for our email list so you don't miss out. Is commitment hard? You can unsubscribe at any time. Learn more about our RTS Insiders here.