Wholesale pricing for realtors
We think realtor client gifts are so important, that we offer wholesale pricing for realtors. Purchase 10 boards to get the wholesale rate BUT only engrave those you need now. We save the rest for you. We're ready when you are.
---
Don't see something you like? No problem! We will work with you to design something completely unique. Need some inspiration? Here are some examples of what we have done in the past: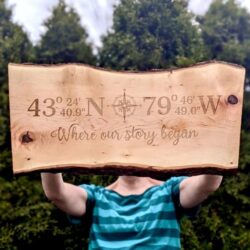 ---
It's easy to see that our live edge boards make stunning realtor client gifts, but what most people don't consider is that their functionality is what will bring you referrals. There are a few aspects of our boards that make them so great.
The personal touch. By engraving the board with something meaningful to your client, like their names or important dates, you show that you value them, not just the sale. It also is a great way to ensure the longevity of the connection since personalized gifts are rarely discarded.
Permanent branding. Your logo can never be removed, and its placement on the back of the board makes it easy for your client to find you or refer you, without you coming across as pushy or self serving.
Their intended function. Our boards are used mainly for gatherings – to present charcuterie to groups of friends and family. During these times, our boards act as conversation starters and the first question is usually "where did you get it?" Now they are talking about you, and your referral rates have just increased without you lifting a finger.
What your gift includes:
Live edge Charcuterie Board with personalized engraving.

Ready to use and sealed with a mineral oil and beeswax food safe finish.
100% Canadian made with cherry or maple wood.
Our boards sit slightly raised off the table.
Available with bark or without.Branded high quality gift box.

Optional – Branded high quality gift box with or without your logo engraved.
Product Care Sheet included.