What's the difference between a cutting board and a charcuterie board? Great question! We get asked this a lot. The truth is, many people use the terms interchangeably, but when you're looking for a personalized gift, there are a few important differences that you should consider. I'll outline those differences below and highlight what makes our boards different from others on the market. I'll also give you suggestions as to which product is best for the type of gift you are buying. If you'd like to discuss a specific gift, don't hesitate to contact us. We'd be happy to help. Make sure you sign up to be an RTS Insider to get access to free products, exclusive offers, and early access to our sales.
The biggest difference between a cutting board and a charcuterie boards is how they are used.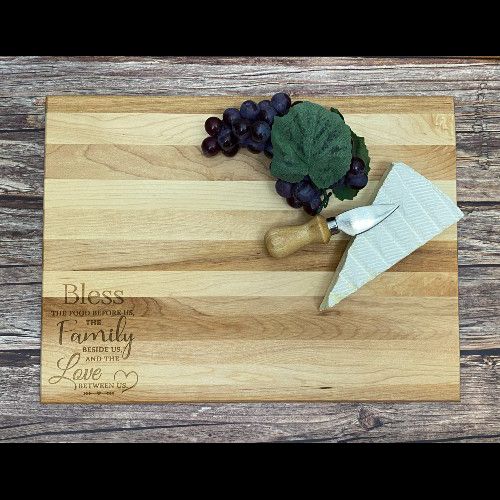 Cutting boards are meant to cut and prepare food, while charcuterie boards are meant to display food. This is an important difference to understand as it may help you decide which is the better gift. For example, our charcuterie boards are very popular with realtors and other professionals looking for client gifts because they are used at parties and are natural conversation starters. Guests are gathered around the buffet at a party, notice the beautiful engraving and always ask, "where did you get that?" The benefit to the realtor, of course, is that now they are being talked about at a party and their referral rates will increase.
Even if you are not a realtor, this difference should help you decide which product is best for the person you are buying for. Do they love to entertain? Do they often host family Christmas' or other holidays? Then I suggest getting a personalized charcuterie board. Do they have a beautiful kitchen or love to cook, but rarely entertain? Then a cutting board may be a better choice.
Another important difference – how they're made.
Both cutting boards and charcuterie boards make amazing gifts.
No matter which decision you make, rest assured that your gift will be well received. The engraving is beautiful – photographs don't do it justice, and when you personalize the design you instantly make it meaningful as well.
You can choose from one of our many popular designs or we can work with you to create something custom. No matter what you choose, we'll always send a design file for you to approve before we engrave. This puts YOU in charge and you'll have a better understanding of what to expect when you see your board for the first time.
For a complete gift, add a gift box and a container of board balm to your order. We can gift wrap, add a handwritten card and ship directly for you too! We've tried to make giving a beautiful, functional and meaningful gift as easy as possible.
Round Trip Studios is located in Milton, Ontario but we serve all of Canada. Contactless local pickup is available for clients in the surrounding regions of Oakville, Burlington, Georgetown, Halton Hills, Hamilton, Mississauga, Toronto, and beyond. Shipping is available nationwide.